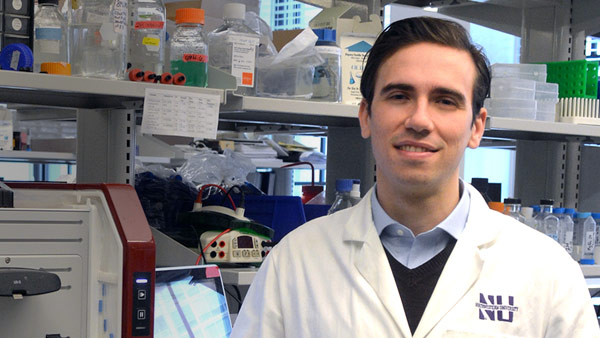 Marco Biancucci, PhD
Postdoctoral research fellow, Northwestern University – Chicago Campus
Recipient, 2016 Pancreatic Cancer Action Network – NCI Frederick National Laboratory for Cancer Research
KRAS Fellowship funded in memory of Samuel Stroum
Announcing 2017 KRAS Fellowship and KRAS Travel Scholarship Funding Opportunities



Dear RAS research community,

The National Cancer Institute's (NCI) Frederick National Laboratory for Cancer Research (FNLCR) and the Pancreatic Cancer Action Network have joined together again to further cutting-edge research on pancreatic cancer and KRAS that integrates with NCI's RAS Initiative. For 2017, two types of awards are available.

Expanded! KRAS Fellowship
Amount: $100,000 | Duration: Two years
Supports a postdoctoral or clinical research fellow to conduct KRAS research that is directly relevant to pancreatic cancer with aims aligned with the RAS Initiative
Application deadline: October 27, 2016, Noon EDT



KRAS Travel Scholarship


Amount: Depending on need
Provides travel support to a researcher at any career stage, during or after the postdoctoral level, to visit FNLCR to pursue KRAS research that is directly relevant to pancreatic cancer with aims aligned with the RAS Initiative
Application deadline: Rolling



Questions?
For questions about proposed projects and resources at FNLCR, please contact Dwight V. Nissley, PhD, Director, Cancer Research Technology Program, FNLCR: nissleyd@mail.nih.gov.

For general questions about the award or our other funding opportunities, please contact: grants@pancan.org.

The RAS Initiative
The National Cancer Institute's RAS Initiative was launched in 2013 to deepen knowledge of several aspects of RAS genes – their protein products, role in cell signaling, and functions in health and disease – with the explicit goals of improving treatment, diagnosis, and prevention of the many human cancers driven by mutant RAS genes. The Initiative operates as a research hub based at the NCI Frederick National Laboratory for Cancer Research (FNLCR) in Frederick, Maryland, with spokes reaching into all corners of the extramural research community. The RAS Initiative is led by Dr. Frank McCormick, a distinguished RAS investigator from the University of California, San Francisco, and is managed for NCI by Leidos Biomedical Research, Inc.

The Pancreatic Cancer Action Network
The Pancreatic Cancer Action Network is the national organization creating hope in a comprehensive way through research, patient support, community outreach and advocacy for a cure. The organization is leading the way to increase survival for people diagnosed with this devastating disease through a bold initiative – The Vision of Progress: Double Pancreatic Cancer Survival by 2020. To continue to accelerate progress, a goal to raise $200 million by 2020 has also been established to allow the organization to significantly increase its investment in research efforts. Together, we can Wage Hope and rewrite the future of pancreatic cancer.
Frederick National Laboratory for Cancer Research
8560 Progress Drive
Frederick, MD 21701
301-496-4345

Pancreatic Cancer Action Network
1500 Rosecrans Ave., Suite 200
Manhattan Beach, CA 90266
877-272-6226