News and updates for the WPCC community. View in browser.

August 2016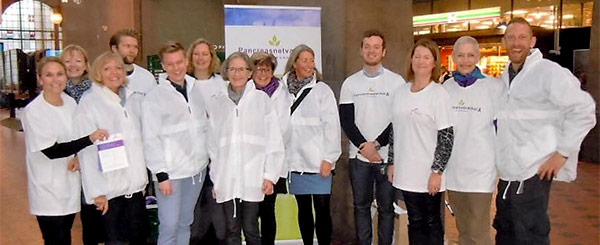 The Pancreasnetvaerket i Danmark team at a rally at Copenhagen Central Station on World Pancreatic Cancer Day 2015.
Member Highlight: Pancreasnetvaerket i Danmark



The Danish pancreatic cancer patient organization Pancreasnetvaerket i Danmark was started by a newly diagnosed pancreatic cancer patient and his wife after the two realized the urgent need for an organization to distribute information about pancreatic cancer and provide support for patients and caregivers. They organized the first nationwide pancreatic cancer patients' conference in Denmark in the spring of 2015, and today, the organization is working harder than ever toward its mission of helping patients and caregivers in any way possible.

Read more
New WPCD Materials You Can Use



Here's what's new on the WPCD website!
Thunderclap and Facebook events so you can start promoting WPCD on social media
Promotional video introducing people to World Pancreatic Cancer Day; please start to share it right away so we can build momentum leading up to the big day
Updated pancreatic cancer facts and figures throughout the site (a new, downloadable PDF will be available in September)
We Need Your Stories by Aug. 31!



We want the world to know the stories of pancreatic cancer survivors and their loved ones. Stories of strength and hope will highlight our efforts to change the course of this disease. If you know of personal stories from survivors, caregivers, researchers, advocates, volunteers or staff that you think the world should know, email them to info@worldpancreaticcancercoalition.com by August 31. Please submit 500 words or less, plus a photo if you have one. Tell us their name, location and if they're a survivor, caregiver, advocate, etc. Also tell us what WPCD or fighting pancreatic cancer means to them.
Important Note about
Social Media

We'll be covering our WPCD social media strategy during a September webinar training (noted below). However, if you are working on plans for your own social media push for WPCD and would like to have a conversation before the September training about how that can align with the 2017 campaign, please contact us at clara@worldpancreaticcancercoalition.com.





Upcoming Events



Register for September Webinars!

WPCD agency partner, The Richards Group, will lead two webinars – each offered at two different times. Register for each webinar at the time that is convenient for you, noting the time zone differences, using the links below.

Earned Media Training
Thursday, Sept. 22 at 8 a.m. Pacific (U.S.) Time
Thursday, Sept. 22 at 4 p.m. Pacific (U.S.) Time

We'll outline key media messages, tools, timing and more to promote WPCD in your regional media outlets.


---

Social Media Training
Thursday, Sept. 29 at 8 a.m. Pacific (U.S.) Time
Thursday, Sept. 29 at 4 p.m. Pacific (U.S.) Time

We'll outline the goals for the digital campaign and the tools and resources that will be available to support you.


Save the Date for Annual Meeting!

May 2-5, 2017
WPCC Annual Meeting | Montreal, Canada



---
World Pancreatic Cancer Coalition Steering Committee Members

Julie Fleshman, Chair
Pancreatic Cancer Action Network (USA)

Barbara Kenner
Kenner Family Research Fund (USA)

Cindy Gavin
Let's Win/Lustgarten (USA)

Ali Stunt
Pancreatic Cancer Action (UK)

Alex Ford
Pancreatic Cancer UK (UK)

Stefanie Condon-Oldreive
Craig's Cause Pancreatic Cancer Society (Canada)

Michelle Capobianco
Pancreatic Cancer Canada (Canada)

Carl Hamilton
PALEMA (Sweden)

Catherine Holliday
Centre for Community-Driven Research (Australia)

Angelia Dixon
Pancare Foundation (Australia)


World Pancreatic Cancer Day Committee Members

Ali Stunt, Chair
Pancreatic Cancer Action (UK)

Kate Elliott
Craig's Cause Pancreatic Cancer Society (Canada)

Charlotte Zamboni
Pancreatic Cancer UK (UK)

Jessica Abelsohn
#Purpleourworld (Australia)

Scott Saunders
The JCM Foundation (USA)

Kalliopi Christoforidi
European Cancer Patient Coalition (EU)

Dora Constantinides
PASYKAF (Cyprus)
---
SPONSORED BY
Have questions for the WPCC?
Email Project Lead Clara MacKay at clara@worldpancreaticcancercoalition.com.